There used to be a stereotype of what RVers looked like. Most people thought of RVers as retired couples enjoying traveling the country from time to time. However, a recent study of RV ownership found there are seven different categories of RV owners. When you identify what category you fall into, it can help you find the right RV to meet your needs.
The seven RV owner categories include:
Full Timers
Adventure Seekers
Today we're talking more about full-time RVers.
A little about full-time RVers
It's very easy to determine if you fall into this group. If you live in your RV all the time, this is your group. If you want to live in your RV all the time and are making the effort to make it happen, this is your group.
Fulltime RVers account for 1.5% of all RV owners. While the stereotype makes people think this group consists of retired individuals, the truth is only 43% are retired. Thanks to technology and the shift to remote work, and school, during the pandemic, the doors have been opened. The world of fulltime travel is now a realistic opportunity for many.
Families have taken to the road and are teaching their children providing them with unique experiences along the way. Digital nomads have discovered they can travel, see the country, and have an adventure while still working fulltime. And there are still retired couples who use the opportunity of a free schedule to live life on the road.
Some fulltime RVers purchase a lot in a campground and stay put long-term, while others move from place to place regularly. The beautiful thing about living in an RV is that the choice is yours.
What Happy Campers need in an RV
Full time RVers obviously have many different needs than the occasional RVer when it comes to choosing the perfect RV. When you live in your RV, you need it meet all of your needs. Some of the features that are simply "wants" for other RV owners become necessities for fulltimers. This includes things like:
Washer and dryer hookups
Storage space
Use of a full kitchen
Comforts of home
While the exact needs vary from one person to the next, it's important to consider what your needs are before purchasing an RV to live in fulltime.
A few RVs that are great for full time RVers
The majority of fulltime RVers live in fifth wheels, travel trailers, and Class A motorhomes. Here are several RVs that might be a great fit for you and your specific needs.
2022 Dutchmen RV Astoria 2503REF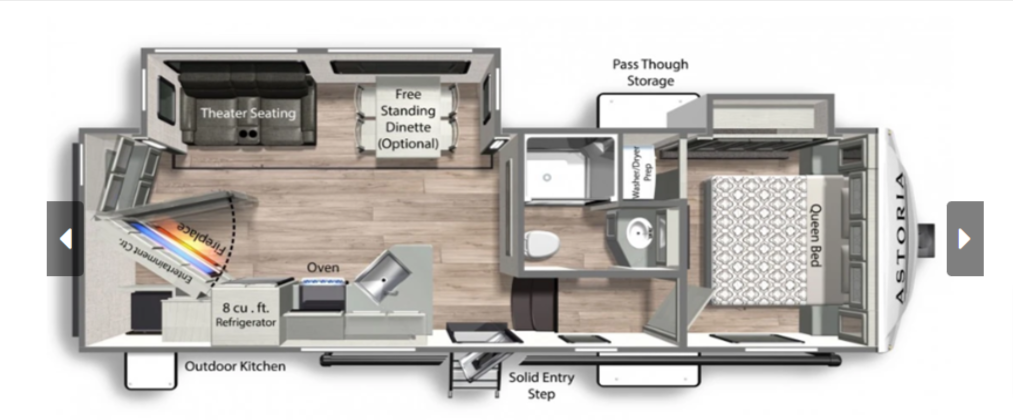 The Dutchmen Astoria 2503REF is a great option for solo RVers or couples who don't need a lot of space but still want the comforts that come with home. There is a spot for a washer and dryer hookup with access from the bedroom. There is also the option for a table and chairs in place of a dinette which can add to the feel of home and also make for a good workspace for digital nomads. On the exterior, the RV offers an outdoor kitchen to add to your camp life experience.
Another advantage of the Dutchmen Astoria is it's a fifth wheel, so you can unhook it from your tow vehicle and leave camp set up when you head out for the day.
2022 Forest River RV Wildwood Heritage Glen 310BHI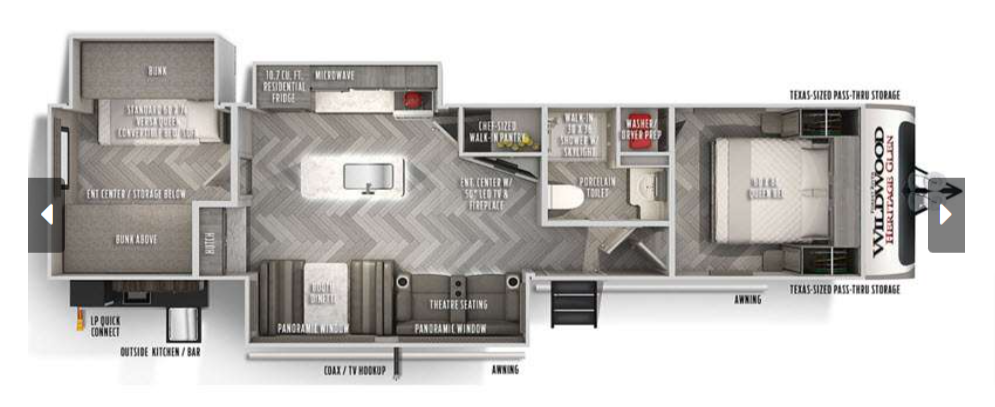 The Forest River Wildwood Heritage Glen 310BHI is a great option for fulltime RVing families. The bunkhouse in the rear provides a space for kids to call their own. There is a large kitchen island which makes meal prep for a family easy, along with a walk-in pantry for extra kitchen storage space. There is also an outdoor kitchen for those days when you don't want to make a mess in the kitchen, or you simply want to enjoy the outdoors more.
Another advantage of the Wildwood Heritage Glen is that it's a travel trailer so you don't need a truck in order to tow it like you do a fifth wheel.
2022 Forest River RV Georgetown 7 Series 36K7

The Forest River Georgetown 7 Series RV is a nice option if you're looking for a Class A RV. It provides plenty of space for a couple to entertain guests or could be used by a family with kids that don't mind sleeping in bunks that are right off the main living space. One of the nicest additional features in this RV is that there are two full baths. This makes it easy for multiple people to get ready at the same time or for you to have some privacy in a private bath while allowing guests to use the other.
With a Class A, you can take your home with you wherever you go, or you can tow a vehicle behind the RV so you still have access to a day-driving vehicle.
Are you ready to head out for life on the road?
If you want to become a fulltime RVer, we would love to help you find your dream RV. Contact us today to start your journey.