If you're ready to have more outdoor adventures or are looking for a way upgrade your camping experience, you don't need to look any further than an A-frame camper.
A-frames have been around since the 1970s but are often thought of as the modern day pop-up camper. They have the same flat folded down look of a pop-up, but they set up into an A-frame shape that is designed with hard sides instead of canvas. And while they may be small, they pack a giant punch of value. Here are some of the advantages to an A-frame camper.
Lightweight and easy to tow
One challenge prospective RVers face when looking at buying a travel trailer is needing a vehicle that can tow it. A-frame campers are lightweight and easy to tow which may be just the solution you need. If you don't have a truck, and don't want to buy one, there's a good chance you can tow an A-frame with your car or SUV.
In addition, because they are so lightweight, it's easier to tow and requires less gas as well.
Stores easily at home
Storage can be a challenge for RV owners who aren't full-time RVers. When you're home, you need a place to park your rig and many neighborhoods have restrictions not allowing them to remain in the driveway or yard. A nice advantage to an A-frame pop-up is they fit into most garages. And, if you are allowed to keep it parked outside in your area, it takes up much less space than other RV options.
Easily fits on small campsites
You can take your A-frame places you may not be able to take larger rigs. For example, there are state and national parks that can't accommodate Class A motorhomes. If you want to increase your options on where you can camp, an A-frame may be a the perfect solution.
You can also make a few simple modifications that make it easier for you to take an A-frame off the beaten path.
Hard sides improve your camping experience
If you are used to tent camping or using a traditional pop-up with canvas sides, you'll love the benefits of the A-frames hard exterior sides. They provide better insulation and protection from the climate. They are more resistant to wind and rain. And, they provide more security from animals and people. You can rest easy when you head out to explore for the day and when you go to sleep at night.
Easy to setup and tear down
You can set up an Aliner A-frame camper in 30 seconds and tear it down in the same amount of time. And you don't need any tools to get it done. That means setting up camp and packing it up is easier than ever. If you're used to fighting with tent poles, you'll be amazed at how simple it is.
Still provides everything you need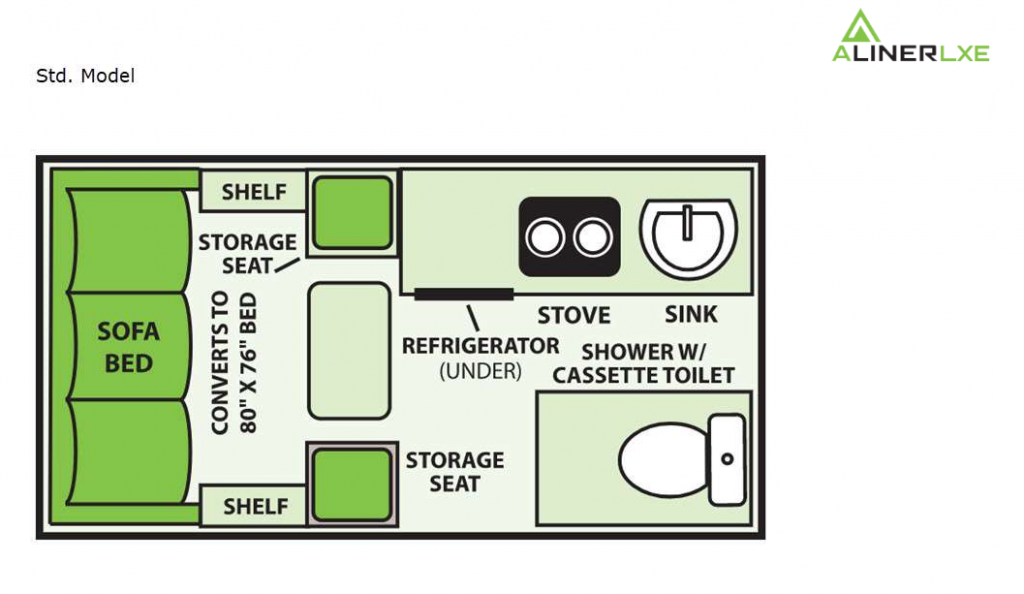 A-frames may be smaller than other RV options, but there are still options that provide everything you need to enjoy time on the road. For example, the Aliner LXE A-frame camper includes a shower and toilet combo, rear sofa bed, storage seats, outside shower, refrigerator with freezer, microwave, stove, and sink.
The standard equipment on Aliners include city water hookup, pre-wired for solar panels, LED interior lights, premium curtains, 120 volt electrical system, and electric trailer brakes with break away safety switch. You can upgrade standard Aliner models to include an 11 gal freshwater tank, compact refrigerator and 2 burner stove. And, the deluxe version, includes hardwood cabinets, microwave, refrigerator with freezer, additional windows, and a cable connection.
It is important to note though, if you're looking for an RV with a full bathroom, this is not going to meet your needs. If you simply want the option to have a toilet inside and ability to take a shower, there are some models that will meet your needs.
Budget friendly
The investment to get started is minimal with an A-frame camper. In addition, they are fuel friendly meaning you can save on gas compared to other types of campers. Since you can do more of your own cooking while own the road, it can help you save on food too.
Additional things to consider
If you are looking for an RV that provides all the comforts of home, can sleep a large family, or has head space for taller individuals, an A-frame may not be the best fit for you. You also need to consider how much storage space you need inside your camper. Because the walls fold down when you travel, you need to pack differently than you would in travel trailers or other RVs.
Take time to consider what you need and want out of your RV. While A-frame campers might not be the right fit for every RVer, they may be just what you're looking for. One of people's favorite things about them is the way they encourage you to get outside and enjoy the outdoors. You have what you need inside if the weather is bad, but with the smaller interior space, it encourages you to go out and have an adventure!
If you're ready to explore purchasing an A-frame camper, contact us today to get started.