So, you want to buy an RV? There are many options to choose from when you're starting out in the world of RVs and some great options for newcomers are lightweight travel trailers. These RVs provide you with the necessities you need to level up your camping experience while being easy to manage as you drive and maneuver. If you're looking to buy your first RV, keep reading.
Advantages of lightweight travel trailers
1. Can take it more places
Lightweight travel trailers can access some locations that heavier RVs are unable to travel. if you like to visit off-grid locations or want the option to see more, a lightweight travel trailer may be the best option for you.
Another nice benefit is that these RVs tend to be on the smaller side which allows you more flexibility for campsites. Large travel trailers, fifth wheels, and Class A motorhomes may not be able to fit into certain campsites where a smaller RV can easily fit.
2. Easier to tow
The lighter weight of these RVs means you have more options available for vehicles that can handle towing it. You don't necessarily need to have a truck because you may be able to pull it with your family SUV. In addition, the lighter weight makes it easier when driving and it's not as tough on your vehicle when accelerating or braking.
You may also find that a lightweight travel trailer lowers your fuel economy, which is a huge benefit with the costs of fuel in 2022.
3. Range of pricing options
Smaller RVs can provide a lower pricing point which can make it easier for you to get started on your journey to becoming an RVer. But, as you'll see below, just because an RV is a little smaller doesn't mean it doesn't have everything you need to enjoy your time on the road.
Here are several lightweight travel trailers every new RVer should consider:
Keystone RV Springdale 1800BH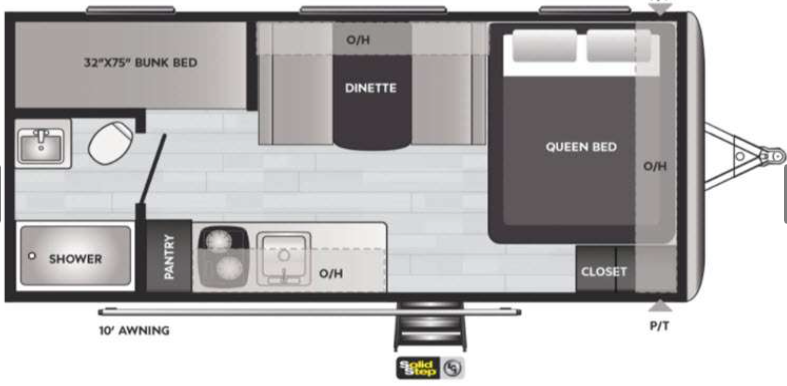 The Keystone Springdale 1800BH packs a lot into a small space! This lightweight RV gives you everything you need inside including a galley kitchen and bathroom while allowing you to maximize your outdoor adventure. The travel trailer is prepped with SolarFlex200 which means you can expand where you camp while still having access to solar power.
There is a queen bed, bunks, and a dinette that doubles as a bed, allowing you to sleep up to 5 people. You also have pass through storage under the RV and a pantry in the kitchen to maximize your storage space.
Forest River RV Cherokee Wolf Pup 16BHS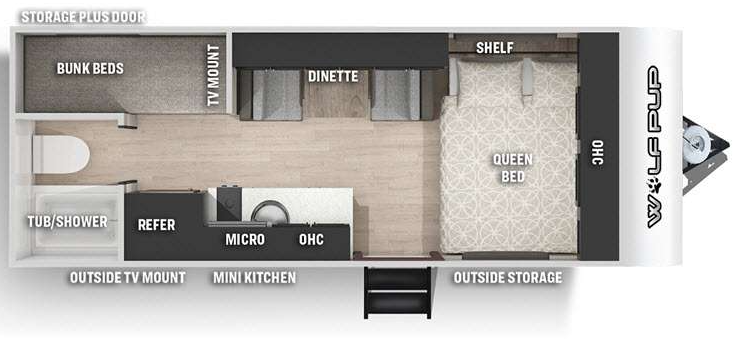 The Cherokee Wolf Pup is another great lightweight travel trailer option that gives you everything you need and a little bit more. Inside the RV, you'll find a queen bed and bunks. The kitchen features a huge sink with a countertop cover to make the most of prep space as needed.
On the exterior of the travel trailer, you'll find a large entry door that allows you to store extra gear in the space under the bottom bunk. There is also a power awning and mini kitchen to make it easy to create an outdoor living space at your campsite.
Venture RV Sonic Lite SL169VUD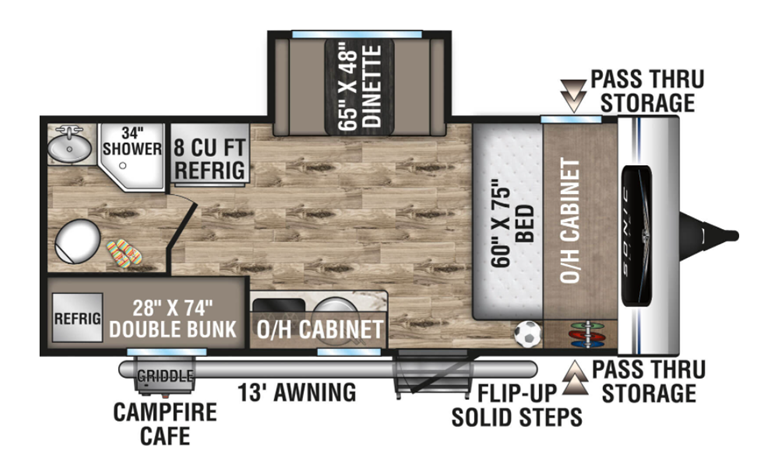 The Sonic Lite is a lightweight travel trailer with a slide allowing you to enjoy more space to move around inside. The RV can sleep up to six with a queen bed, bunks, and a dinette that converts to a bed. You will find a galley kitchen with convection microwave and 8 cu. ft. refrigerator along with a bathroom including a shower.
If you prefer to spend your time outside, there is a campfire cafe complete with griddle and a 13′ awning for shade or protection from the rain. You will also have access to exterior storage to bring your favorite outdoor gear along with you and your family.
Finding the right RV for you
If seeing these floorplans has you excited to find the perfect RV for you, Sky River RV can help. You may find that your needs and wants in an RV are different than those listed above. There are plenty of options for you to choose from. Contact us today to get started.