There are many different types of RVs to choose from which can make it difficult to find which one is right for you. Understanding what type of RVer you are can help you find the best fit. There are seven different RV owner categories including:
Adventure Seekers
Today we're talking about the final group of RVers—Adventure Seekers.
A little about Adventure Seeking RVers
Adventure seekers are a unique group. They enjoy heading out to wherever adventure awaits. This group is pretty diverse in its demographics. The majority of the group is over 55 years old, but 34% fall between the ages of 35 and 54 years old.
Only 50% of adventure seekers are retired, yet on average they travel an average of 200 days per year. Their vacation time is usually spent in the RV and they enjoy heading out on destination trips.
It probably won't surprise you that this group enjoys outdoor activities. Some of their common hobbies include swimming, hiking, and canoeing.
What Adventure Seekers need in an RV
Adventure seekers need an RV that can keep up with them and get them where they want to go. While some RVers are looking for all the comforts of home in their RV, adventure seekers are more concerned about making sure their RV can keep up with them.
Since only 19% of adventure seekers travel with children, they may not need as much space as some of the other RV owner categories. Some features they may want include:
Durability
Quality tires
Solar power
Built-in air compressor
Awning and outdoor kitchen
Garage space to bring toys (ATVs, bikes, etc.)
Tie downs for bikes or kayaks
The exact features you will want depend on how you enjoy spending your time. For example, if you love fishing then you will want space to bring all your fishing gear along with you. If you want to get off the beaten path, then you'll want to have solar panels.
A few RVs that are great for full time RVers
If you're looking for adventure, you need an RV that can get you there. This group tends to like fifth-wheels travel trailers, conventional travel trailers, and Class C motorhomes. Here are a few RVs that you might love as an adventure RVer.
Forest River RV XLR Nitro 35DK5

The Forest River RV XLR Nitro is a fifth-wheel that combines comfort with functionality. This is a toy hauler, which means the back portion of the RV is a garage. This makes it easy for you to take all your toys and gear with you. It's a 15 ft deep and has a spring assisted ramp door. Once you setup camp, you can clear out this space and turn the garage into usable space. There are two sofas with a table that can go between them. It also has a loft with bed above them and a half bath. And that's just the garage!
There is a bedroom, bathroom, spacious kitchen, and living space with television and fireplace inside the RV.
Keystone RV Springdale 1800BH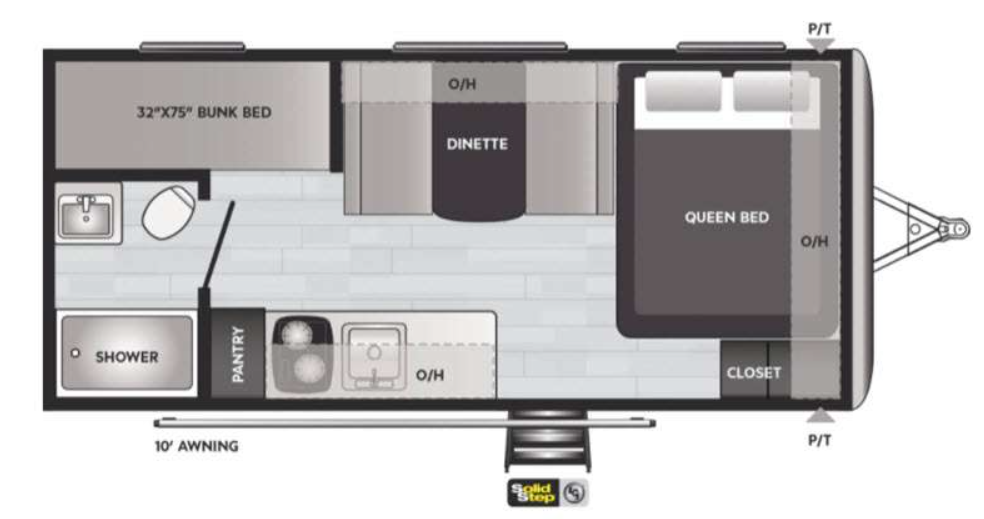 The Keystone RV Springdale 1800BH is a lightweight travel trailer that is easy to take with you wherever you want to go. It is equipped with solar power, allowing you to have more flexibility in where you stay and how you camp. There is a galley kitchen so you can enjoy a good meal when you are back after a busy day.
In addition, this RV sleeps 5. So, if you do have children or want to take a few friends along on your adventure, you have the room to do so.
 Forest River RV Cherokee Grey Wolf 18RR

If you are all about adventure, the Forest River RV Cherokee Grey Wolf 18RR may be the right fit for you. It's a travel trailer with a ramp door at the back to turn your RV into a toy hauler. This RV combines your living space and gear space into one. There is a sofa which folds up to provide more space for your gear and toys while you travel.
The Base Camp package comes with a power awning, outside shower, and outside tv hookup. If you prefer to spend your time out exploring and having an adventure, then this RV gives you everything you need when you to keep yourself going and rest up for the next day.
Find your perfect RV
Whether you are an adventure seeker or fall into one of the other RV owner types, we'd love to help you find the best RV for your needs. Come and start your search at one of our four RV locations today.