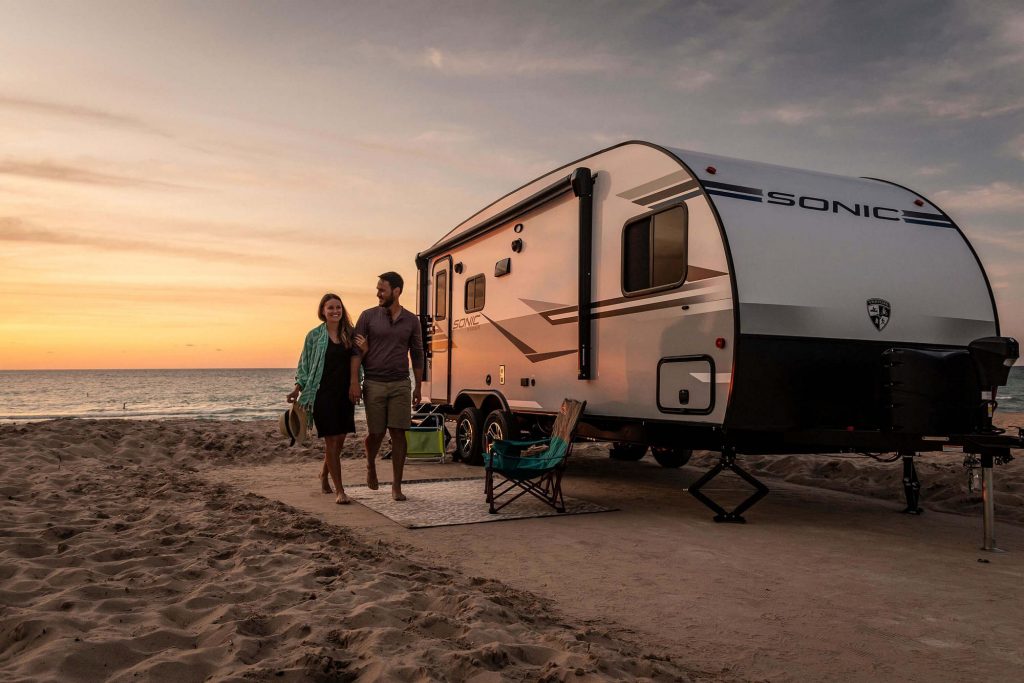 It's finally time! Time to sit back, relax, and plan your next big RV trip for this summer. If you're thinking about taking part in some Central Coast RVing, then you've come to the right place.
There's something special about the Central Coast. It has it all – adventure and relaxation, excitement and tranquility, and yes, a whole lot of wine. But this beautiful part of our country isn't just for the adults, there's plenty to see and do here for the little ones too, so the Central Coast makes for the perfect RVing spot for anyone – old, young, old souls, and young at hearts – everyone is welcome here. Whether you want to take it slow or put your pedal to the metal, there's an activity here that's perfect for you.
So, load up your RV, get all your essentials together, and head to the Central Coast. We promise you won't regret it. But before you head off, take a look at our list of 8 activities to do while Central Coast RVing so you can plan the perfect trip ahead of time!
1. Shell Beach (Pismo)
Shell Beach is situated in Pismo, but it has such a strong identity of its own that it could be considered a separate town altogether. Exploring the area is a must for families and couples alike, but it's really the beach itself that offers you the opportunity to find an activity that suits you.
Want to unwind with a good book on one of the Central Coast's prettiest stretch of beach? Go ahead! Want to head out on a kayaking adventure? You can rent them nearby, or else book a guided tour that will allow you to explore some of the local sea caves and interesting rock formations (known locally as the Dinosaur Caves). This beach has everything, and that's why it's a must for any Central Coast RV trip.
2. Los Padres National Forest (Montecito)
Los Padres National Forest stretches over 2 million acres, so no, we're not suggesting you explore the whole thing this summer. But what you can do is head to some of the most infamous spots from right here on California's Central Coast.
Montecito is a great base for that exploration. Montecito itself is a stunning area and well worth exploring, but if you're the active type, then hiking into the Los Padres National Forest at the spot closest to Montecito is definitely something you'll want to explore. With the Montecito hot springs, Montecito Peak (standing at 3214 ft), and nearby Tangerine Falls all close by, experienced hikers and climbers will love this spot in the infamous forest.
3. Central Coast Jeep Tour Adventures – Backroads Wine Tour (Paso Robles)
Central Coast Jeep Tour Adventures offers some of the most fun trips for adults in Paso Robles, and their Backroads Wine Tour is something truly unique. When you think of wine tours, you might think of a relaxing day out – and that's fine, but you might be missing a little excitement. That's where this jeep tour comes in.
They'll pick you up from your Paso Robles location in one of their tour jeeps (that fit 2-6 guests) and then they'll drive you to 3 local wineries for you to explore the stunning vineyards. It's a day you'll never forget, and it's one of the most unique ways to have a wine tour on the Central Coast.
4. Piedras Blancas Elephant Seal Rookery (San Simeon)
Want to connect with some of the Central Coast's most famous residents? No, not the celebs that call California home, the Northern Elephant Seals, of course! Head to San Simeon and the Piedras Blancas Elephant Seal Rookery to see these stunning seals in action (they're the second largest seal in the world, though, so be prepared to be shocked by the sheer size of these beautiful animals).
You can watch these hilarious animals from a distance just 7 miles north of San Simeon – but make sure you get here in early summer. The end of June through to the beginning of August is the best time in summer because they won't be around as much from August to September. This one is great with the kids, too.
5. Unmissable Restaurants (Multiple Locations – Come On, We Have Some Of The Best)
Because there are so many different amazing restaurants along California's Central Coast, we couldn't possibly cover every single restaurant in depth. But what we can do is give you a quick synopsis of some of our favorites in different areas, so if you happen to be nearby, you can check them out for yourself:
We could go on, but we'd be here all day. The Central Coast has some of the most exciting restaurants around, though, and you can stray off our list of recommendations and still find delicious food almost anywhere! Trust us, you're in for a treat.
6. Central Coast Renaissance Festival (San Luis Obispo)
Maybe you're looking for a specific festival to attend this summer? If that's the case (and you want to find somewhere for families, couples, or solo travelers alike), then the Central Coast Renaissance Festival taking place between July 16th and July 17th in San Luis Obispo's stunning Laguna Lake Park is the perfect place for you. If you're nearby around these dates, then this festival is one you can't miss. Ever wondered what it was like to live in 1585 England? Well, now you can find out and meet a whole host of interesting historical figures, from William Shakespeare to Sir Francis Drake, or Sir Walter Raleigh to every important Lord, Lady, or Duke of the time.
7. Hearst Castle (San Simeon)
If you're more of a history buff than an adrenaline junkie or wine connoisseur, then the Central Coast has many places you might like to explore a little more. One of which is Hearst Castle in San Simeon. With so many tours available, which can be booked 60 days in advance of your visit, this castle is the perfect slice of history showing you what it would have been like to be a distinguished guest of W.R. Hearst himself.
Everything from his personal collection to the fascinating animals (zebras and reindeer) that roam the grounds can be explored here. Anybody who is interested in history will have a great time here, at one of America's most unique museums!
8. Big Sur Coast Highway (Big Sur)
We couldn't possibly talk about Central Coast RVing activities without mentioning the Big Sur Coast Highway (the most exciting part of California State Route 1). There's nothing better than driving along this picturesque route in your RV, just taking in the views and enjoying the open paved road. The best part about this one is that it gets your RV involved in an adventure that's just as much fun as everything else listed today – and it's entirely free! Perfect for all kinds of RVers.
Before You Go
Before getting on the road this summer, make sure you take time to service your RV. If you need any assistance or are looking to upgrade your RV this summer, Sky River RV is happy to help.