If you've read our blog for a while, then you'll know that we always try to highlight different members of the RVing community to show off some great RVs that would be perfect for them. Today, we're focusing on all you couples out there, as we share 5 travel trailers that we think are just perfect for couples of all ages.
The reason travel trailers work so brilliantly is that they simply hitch to the back of your truck or SUV (and some of the lightweight ones are even towable with a car), which means you can also unhitch them when you arrive at your destination so you'll have a free vehicle to take day trips and explore with. The 5 travel trailers we'll share with you today offer many benefits including spacious bedrooms and bathrooms, plenty of storage for life on the road, and they're all perfect for short-term vacations or the more long-term digital nomad lifestyle.
If you're a couple looking for a travel trailer, then today's post is perfect for you. Here are five travel trailers we think you need to see.
1. 2022 Keystone RV Springdale Mini 1750RD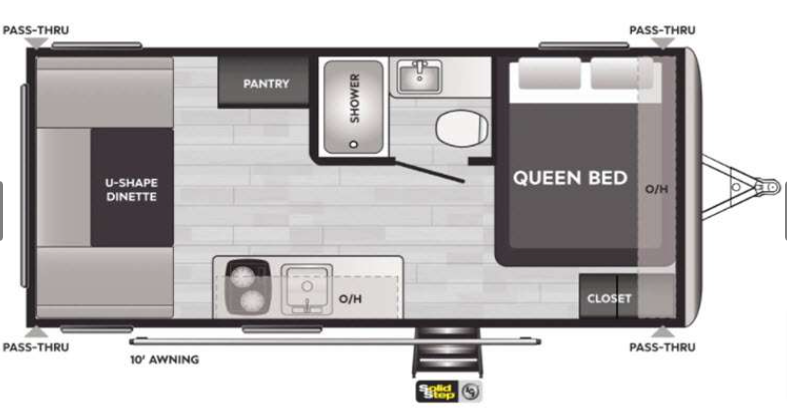 To kick things off, let's start with the 2022 Keystone RV Springdale Mini 1750RD. This travel trailer is fully equipped with a queen bed in the front of the trailer, u-shaped diner to the rear, and a kitchen area (with a two-burner stove) and bathroom (with shower) in-between. There's storage aplenty, and it even boasts 2 pass-through storage units so you can keep any outdoor gear with you easily too.
And trust us, you'll need the outdoor gear because this travel trailer is perfect for adventures – both near and far. But when you're tired of being on the move, you can still enjoy the outdoors at a more relaxed pace thanks to the 10′ power awning that's perfect to keep you covered come rain or shine. Packed full of home comforts, space, and storage solutions, this travel trailer is perfect for any couple seeking adventure.
2. 2022 Jayco Jay Feather 25RB
Next up is the 2022 Jayco Jay Feather 25RB, and it's slightly larger than the last option we looked at, so this is perfect for couples who feel they need more of those home comforts – or who might be looking for a more long-term adventure while living as digital nomads. There's a queen bed and full bathroom (with shower) and kitchen again, but this time the kitchen combines with a spacious living/dining area, too.
In addition to the space, there are lots of storage solutions, including a full walk-in pantry. There's also an outdoor kitchen under a 19′ awning which is perfect for breakfast alfresco before heading out for a fun-filled adventure, or settling down to a day of work at the dining booth.
3. 2022 Forest River RV Cherokee Wolf Pup Black Label 16FQBL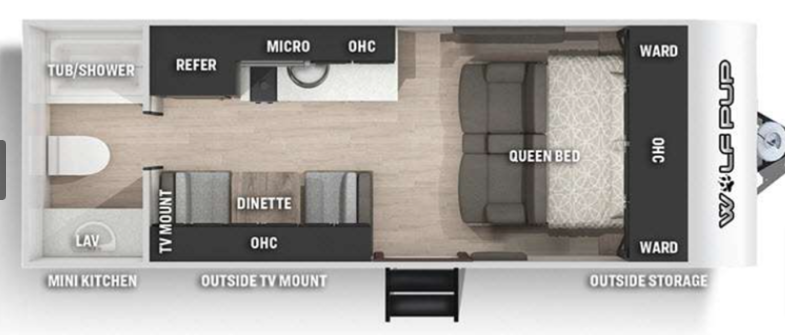 Another great option is the 2022 Forest River RV Cherokee Wolf Pup Black Label 16FQBL, perfect for towing when you aren't experienced with towing because it's designed to be aerodynamic and lightweight. But don't let how easy it is to move deter you. There's still everything here you'll find in the others so far, just on a smaller scale. The queen bed transforms into a comfortable sofa by day, and there's still a fridge and cooktop in the kitchen, as well as a full bathroom with a tub/shower.
This travel trailer also has an outdoor kitchen, but it's just a bit smaller than the option above – but it's still perfectly functional for a couple looking to enjoy some food outside after a day of adventuring.
4. 2022 Forest River RV Wildwood Heritage Glen 270FKS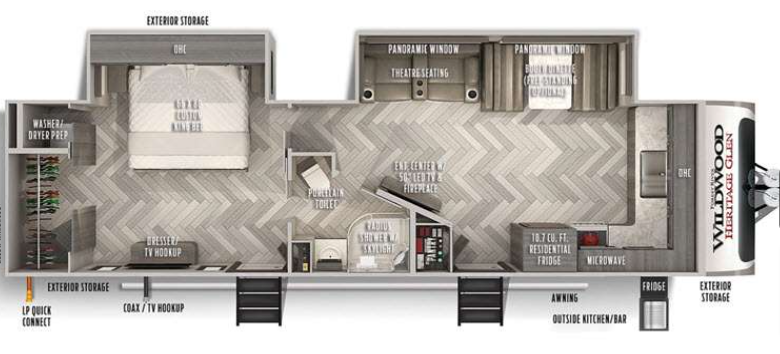 This next one will work for couples of all ages – the 2022 Forest River RV Wildwood Heritage Glen 270FKS is seriously impressive. But this one is certainly for those couples who are looking for a touch of luxury while on the road – making it perfect for home away from home style vacations or living out on the road full-time
The space on offer here is unrivaled, with a full bedroom with a king bed, storage, a closet, dresser, and washer/dryer setup. The bathroom boasts a radius shower with a skylight, and the kitchen is complete with a full-sized residential fridge. Add in the theater seating in the living room, and the booth seating in the dining space (with a panoramic window) and you've got a wonderful space. There's also the outdoor kitchen/bar area, too. Every inch of this space feels luxurious, and any couple looking for comfort while RVing will find it here.
5. 2022 Keystone RV Cougar Half Ton 22MLSWE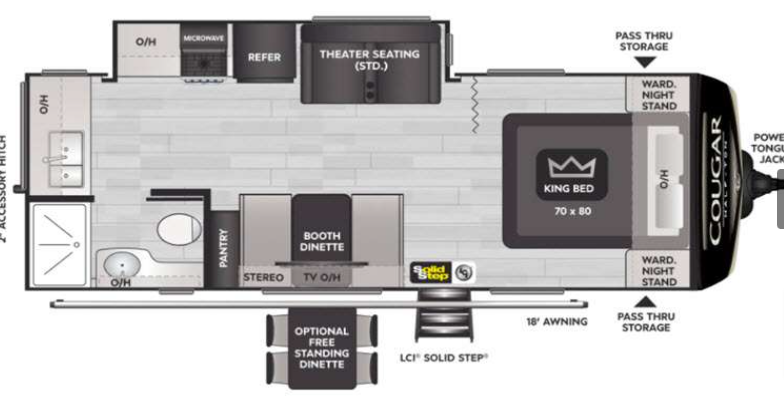 And finally, we have the 2022 Keystone RV Cougar Half Ton 22MLSWE with its king bed, theater seating in the living area, and booth dinette in the dining space. The range and microwave in the kitchen mean you can cook up all the usual home-comforts you enjoy while on the road. And the full bathroom completes everything a couple could need.
This is actually a great travel trailer for any RVer because it comes prepared with everything, including the SolarFlex 200 solar power system fully integrated – so you don't need to add it later – which provides power and keeps your battery fully charged while you're on the road. Want to take the stress out of travel and just relax with that one person who means the most to you? Then this is a great option!
If you've been inspired by the RVs we've shared with you today, then head to one of our Sky River RV dealerships to find the perfect fit for you and your partner.